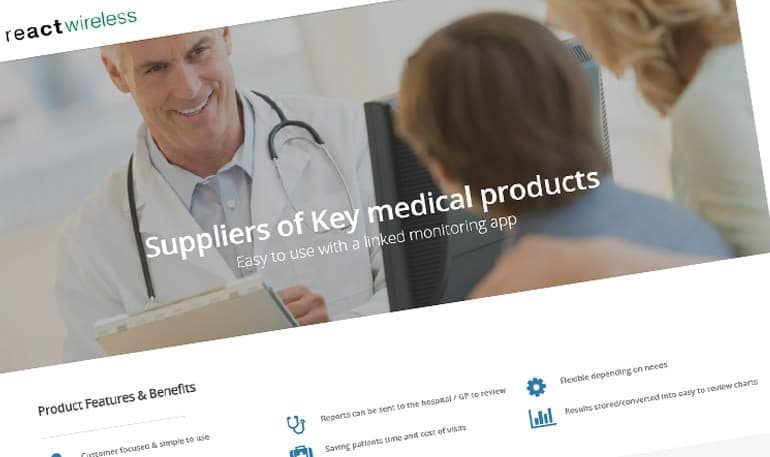 reactwireless supply a range of patient monitoring medical devices, that monitor key health indicators; oxygen levels, pulse, temperature, glucose, cholesterol and blood pressure.
Located just out of London in Epping, Essex, the client required a website to showcase the new brand, its new product range and accompanying mobile app. The website would be multi purpose, containing marketing material on the product range and consumer support information such as FAQs, manuals and app information.
Medical App Website Design
The site was constructed with a WordPress CMS and restricted ecommerce (WooCommerce) functionality, showcasing at the time of launch just four key products. The website was built responsively, with .svg elements for crisper execution on mobile devices.
One challenge in creating the website, was that many of the accompanying elements were being developed at the same time. Product photos and mobile app details were still to be finalised. Whilst this isn't ideal from a design and overall branding prospective, this can be quite common for websites created around a product launch. In the past I've created a website for a magazine launch based on just a brief press shot.
WooCommerce Integration
WooCommerce was used to create the product category, listing and tagging functionality, although the ability to purchase through the website has been disabled. Custom tabs were added to contain the product pdf manual information. Manuals are automatically pulled in if a pdf document matches the product name. The product details page also has reviews, related products and a gallery.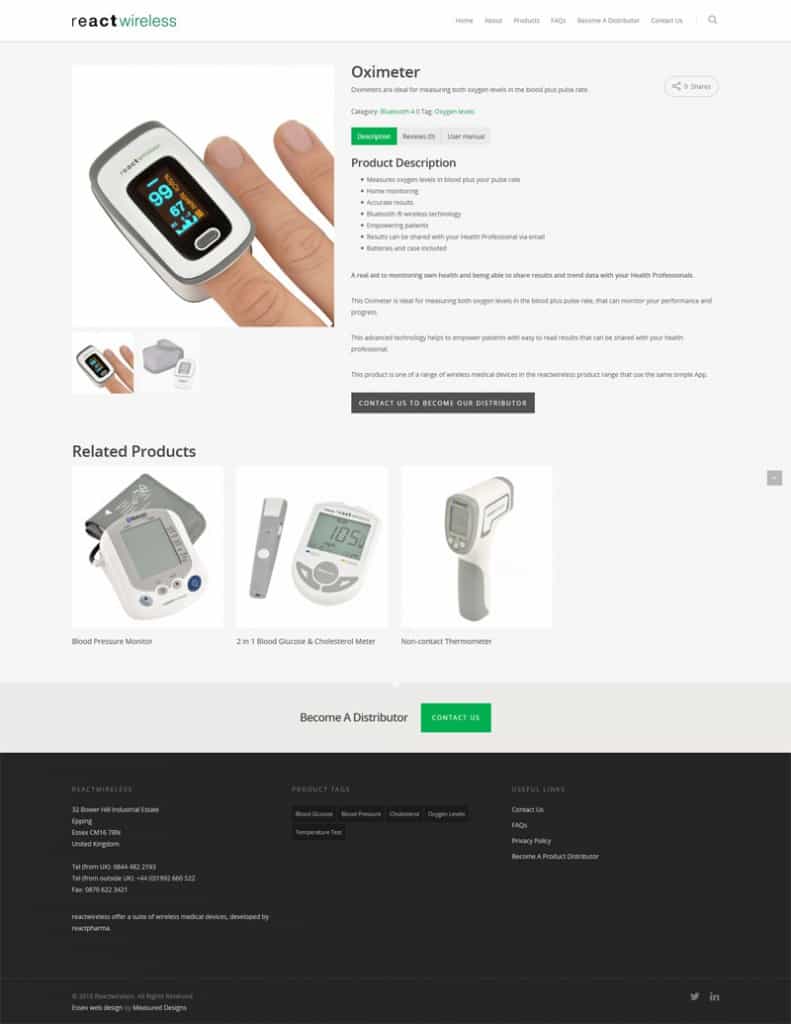 Pages
The website has an easy to update FAQ section, that displays support questions and queries neatly as an accordion. In addition to an about and contact us page, there is a page dedicated to potential distribution partners.
Multisite Hosting
The WordPress install was configured for multisite usage, so the same hosting can support additional WordPress microsites at a later date. This helps to keep future website hosting costs low.
Essex WordPress Website Design
If you'd like help getting your new WordPress website up and running give us a call.
WordPress maintenance
We can also help you with WordPress training and maintenance. We supply several clients across Essex (Southend-on-Sea, Leigh-on-Sea, Colchester, Chelmsford and Epping), London and Norfolk with website maintenance. This helps to keep their sites optimised, secure and on line.