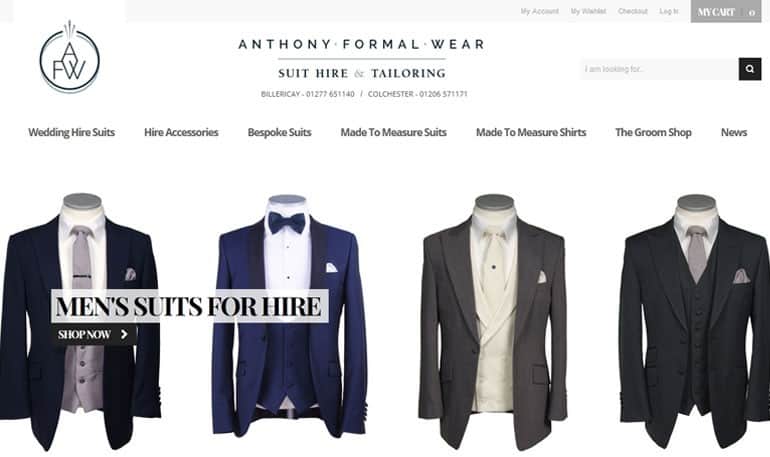 Anthony Formal Wear are an award winning wedding suit hire and tailoring company with stores in Billericay and Colchester. They have a strong social media presence and fantastic products to showcase.
Their existing Magento ecommerce website had product database discrepancies, inconsistent responsive templates and a dated design. The hosting was also unreliable with the site often suffering outages as a result of resource restrictions placed on the site.
Copying the site to a test server allowed us to get to grips with database; simplifying the product types, removing redundant custom and plugin code. This greatly reducing it's size and solved memory issues when loading search results and large product listing pages.
Key Redesign Points
The new site has prominent contact phone numbers in the site header, which are linked so they'll call the number directly from a smart phone. The Cart button is always visible, even when the navigation menu minifies as you scroll down the page.
The site has a clean design, with horizontal main navigation, mobile friendly .svg logo and large search field. Most content is sectioned into rows for an easier, cleaner, responsive layout. A return to the top icon is also displayed to aid browsing on long vertical pages. Breadcrumbs are applied across the website to support usability and enhance SEO.
Homepage
The homepage showcases popular product lines and brands via discreet sliders and is regularly updated by dynamic Instagram and WordPress news feeds. The site uses WordPress to publish and archive its blog content and sizing guide pages.
Category Image Banners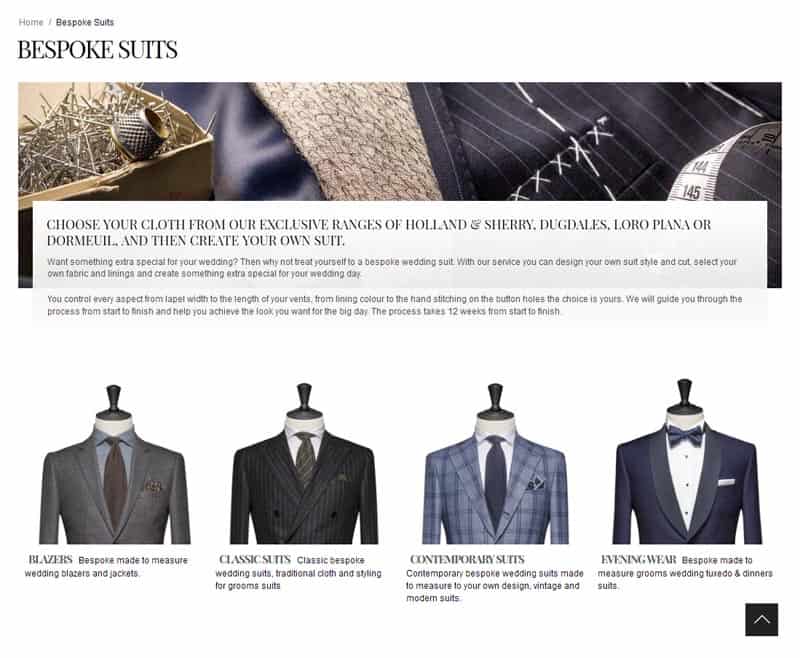 In-house functionality was developed to display the main banner and description from the current category and thumbnails from subcategories. All of this information was editable within the CMS. Having a more visual representation for top level categories, as opposed to listing large quantities of unfiltered products, improves the overall site speed.
Subcategory pages have filters (colour, manufacturer, tags) and sort options. Products can be viewed and purchased by a quick view pop up, or viewed in their full product page.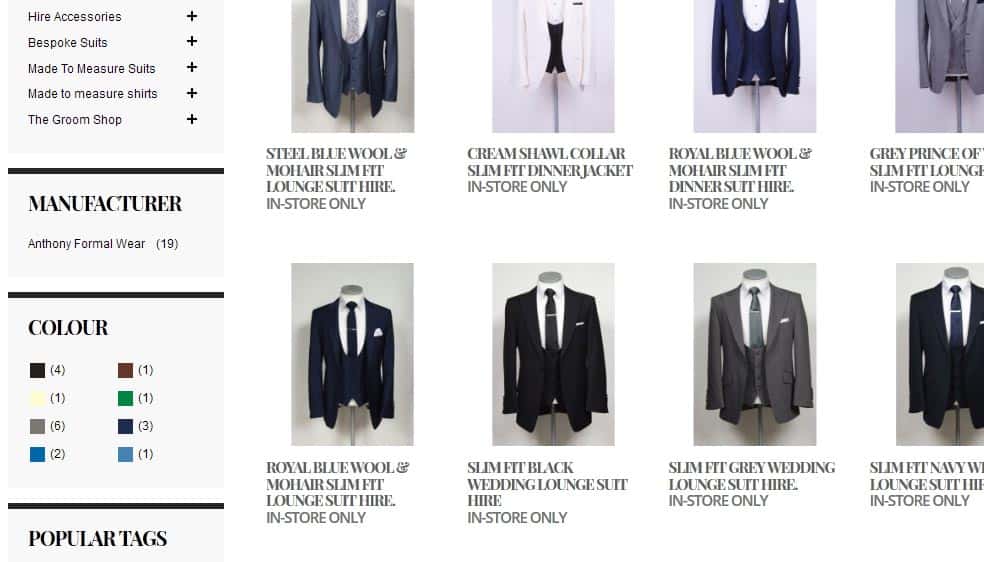 For Hire Products
A large proportion of the products are for rental only. Custom functionality was developed to remove the 'buy now' button from these items on the product page, recently viewed and related products feed. The text 'In-store only' is displayed instead.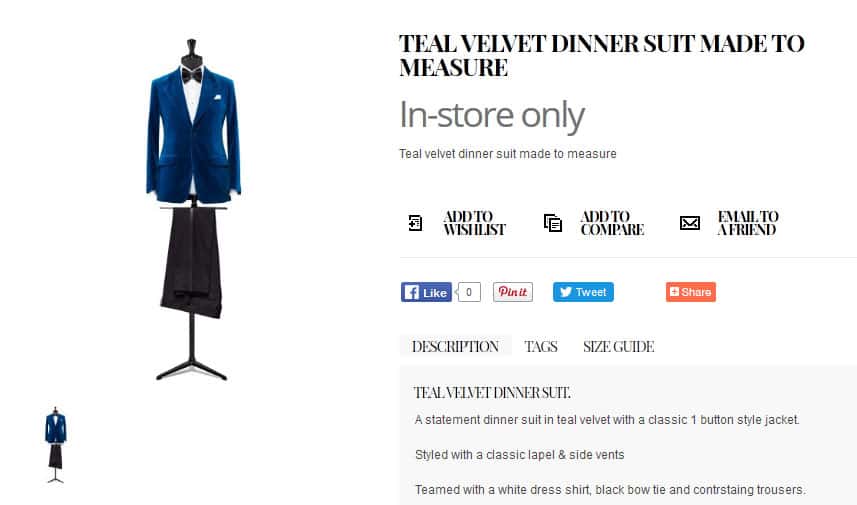 Product types have been simplified to hire and purchase, rather than by
Fabric Swatch Request
Most product pages also featured the option to request a fabric swatch. The link passes the product name and id to a contact form, which collects the customer's name and address. The store is then sent an email notification of the new request. This is a much cleaner execution of the previous implementation that hijacked Magento's review templates.
Social Media – og: & twitter: meta properties
The product pages also include Facebook and Twitter specific meta data, to make it easier to share and promote the products. Meta properties available include; og:type, og:title, og:description, og:url, product:price:amount, product:price:currency, og:image, og:color, og:brand, og:site_name, og:category, og:availability, twitter:site, twitter:creator, twitter:card, twitter:title, twitter:description.
New Colour Swatches, Brand Attributes
A lot of work was put into product data by the AFW team. Products now have assigned colours, brand and country of origin, which make it easier to filter products at category level.
Configurable products, such as this cuff link example below, now show a new product image when the colour swatch option is changed.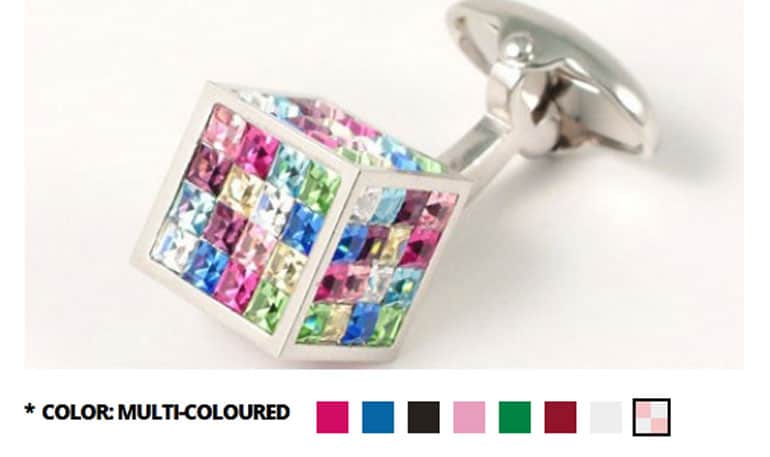 Responsive Email Templates
It's not only the website that is responsive, but the order and delivery email templates sent to the customer and store. Emails adjust perfectly for large desktop screens to smaller devices.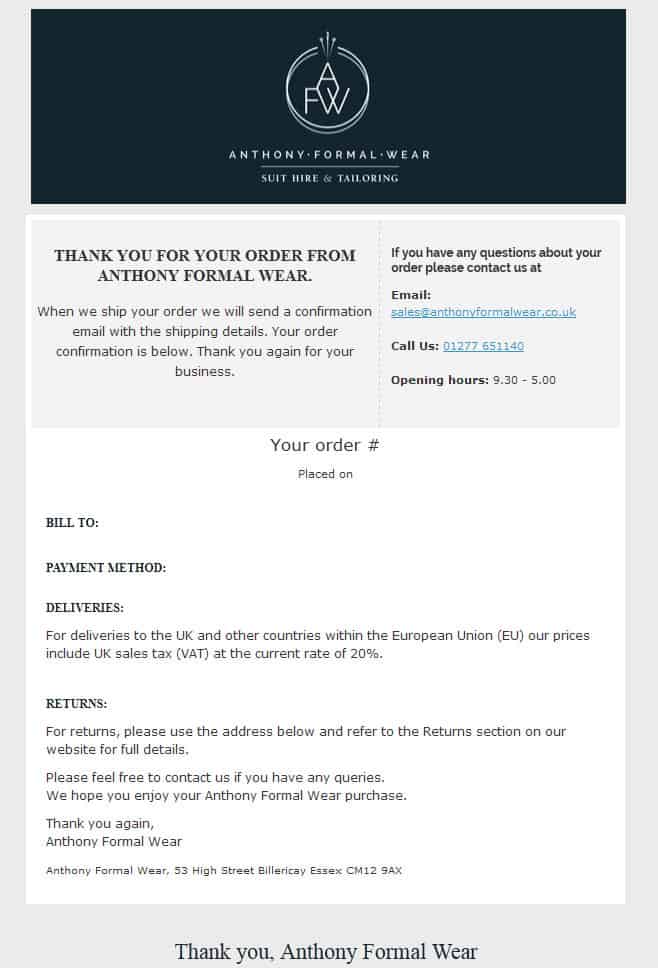 Update your Magento ecommerce website
If you'd like help updating your Magento ecommerce website, give the team at Measured Designs a call. We support many businesses in the local area, providing new websites and site maintenance.