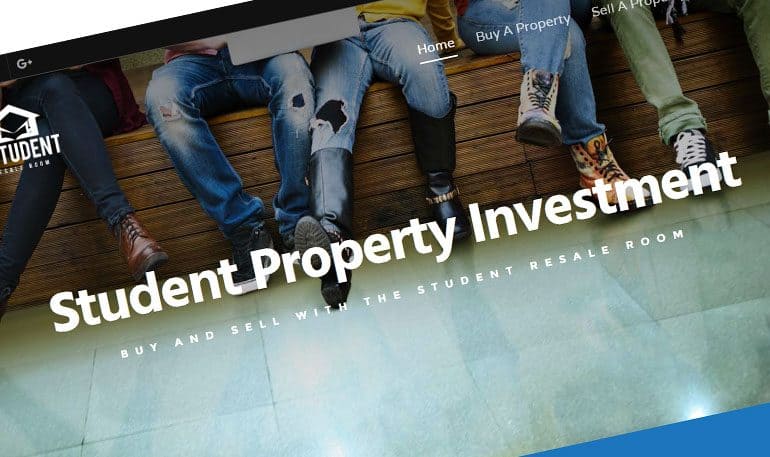 The Student Resale Room is a facility for the buying and selling of student investment properties, making the purchase and reselling of student accommodation hassle free. The Student Resale Room is owned and operated by property investment specialists Sand Royale.
Based at the Businessland Group, Leigh-on-Sea, Sand Royale have been loyal clients for 3 years, having had their parent website designed and developed by Measured Designs.
New website
The Student Resale Room is a new website developed to meet the market need for information and assistance in the resale of student investments properties. As the client is familiar with WordPress, it made sense for the new site to also be developed on that platform.
Property Website Design
After an initial discovery consultation with co-owner Darren Hughes, a project proposal including a site structure was created.
Site Structure
Here's an excerpt from The Student Resale Room's site structure document.
Home – page

HERO IMAGE
ELEVATOR PITCH (Sentence about company and benefits it brings)
PROMOS

BUYING (photo with overlaid text and button, linking to form)
SELLING (photo with overlaid text and button, linking to form)

BENEFITS (Icons and text)
SERVICES (Icons and text)
ABOUT US / SEO TEXT
MAIN CTA (prompt to call)
These clear and distinct sections will guide a user through the site and help to make the website layout fluid for mobile.
Buying student accommodation – page

HERO IMAGE
WHY BUY STUDENT ACCOMMODATION?
WHY BUY FROM US? (BENEFITS / SERVICES)
FORM

Name
Email
Phone no
Which university are you looking at (free text) :

Any
Sheffield
Leeds
Manchester
Cambridge

Budget:
Selling student accommodation – page
HERO IMAGE
WHY SELL STUDENT ACCOMMODATION?
WHY SELL WITH US? (BENEFITS / SERVICES)
FORM

Name (free text)
Email (free text)
Phone no (free text)
Where do you own? (free text)

Sheffield
Leeds
Manchester
Cambridge

What size? (dropdown)

en suite
studio
1 bed
2 bed
Other

Year property construction completed (free text)
Yearly net income (free text)
Although the client initially wanted the site to be just one page, separating the website into three pages made the site less cluttered whilst increasing the chance that would appear individually in searches (e.g. people searching for selling student accommodation). Setting the foundation of the site up in this way also makes it easier to add additional pages in the future e.g. FAQs, About Us etc.
Website Design / Look and Feel
The site's fresh, vibrant design is in keeping with the student subject. Bold colours and large hero photos are used. Call To Actions, headings and form elements are clear, well spaced and simple.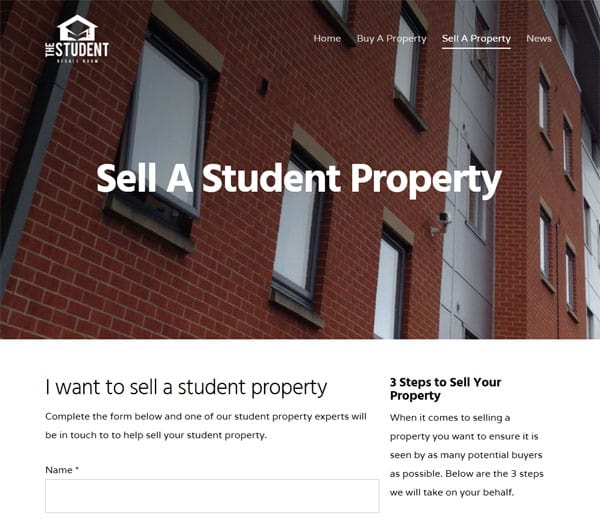 The site's main navigation is simple, with contact information easy to find and telephone numbers linked so they can be called via touch on smart devices.
Website Content Management System
thestudentresaleroom.co.uk is built in PHP with WordPress, a popular and powerful CMS.
It was built with the following security and site enhancement features
A Server Firewall
Additional Admin Area Protection
Website Caching
Easy Analytic Reports
Storing of Contact Email Addresses to an Address Book
Spam Protection
Google Search Console Improvements
Let Us Build Your New Website
Many of our clients are based locally in Essex, making it easy to guide them through the design and development process in person. Having created websites for over 17 years, we're able to give you solid advice on all aspects of your current site, from its architecture, layout / responsiveness and User Experience.
Take a look at our other WordPress portfolio and give us a call to discuss developing your website.