I was fortunate enough to pick up an antique copy of The Essex & West Suffolk Gazette newspaper from 1858 for a few pounds recently. Said to be the largest newspaper published in the Eastern Counties, it was published every Friday in Colchester.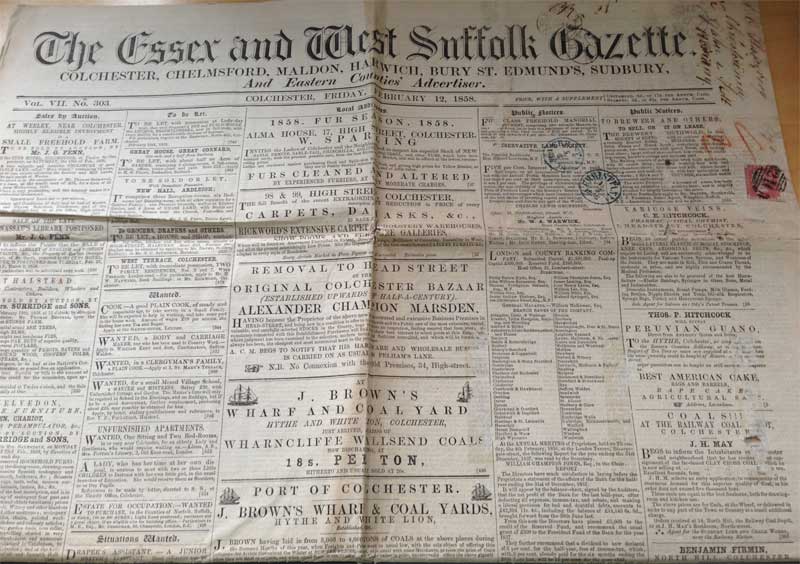 The Essex & West Suffolk Gazette contains an eclectic spread of local and foreign news; from petty sessions verdicts (local criminal and civil legal cases), to struggles in India. It has adverts for everything from antiquated heating devices, quack medicines and emigrating to Australia.
So what does a 1850s Newspaper tells us about Colchester and it's surrounding areas in the nineteenth century?
Essex was still very rural
There are notices of parks and farms selling off large amounts of mature trees for railway sleepers and construction. Agricultural news and farming equipment adverts also feature.
Locals liked to shoot things
From game to less common species of bird, it seemed much of East Anglia liked to shoot animals. Mr Potten of Canewdon was said to have shot "a very fine specimen of the red-breasted Merganser" and guns featured heavily in accident and death news.
Locals often shot themselves and each other
From being shot on a pigeon shoot (a man was accidentally shot in the head and torso), to a man in Ipswich who died after his gun backfired during his morning routine of killing sparrows.
Some Essex residents committed crimes
Coat stealing, disobeying orders to pay maintenance for illegitimate children and drunkenness appear to be frequent occurrences. The excerpt below tells of a 70yr old Totham man who was taken to court on charges of drunkenness, having lost money at dominoes to the court witness.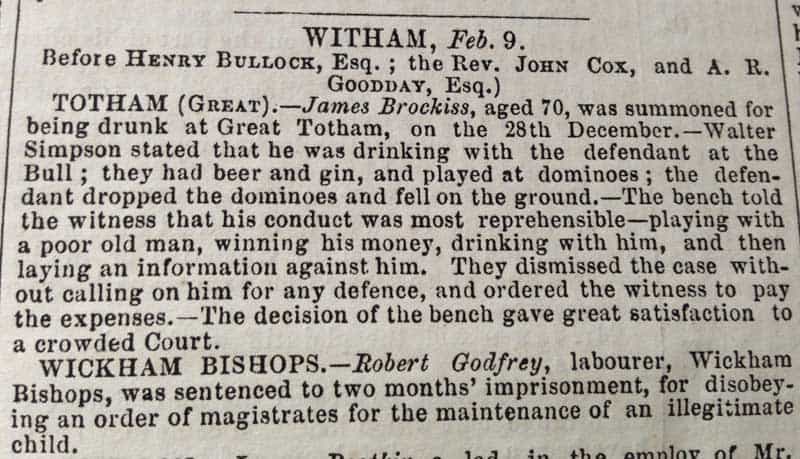 Those found guilty paid fines or were sentenced to hard labour.
Quack medicines were sold in Colchester
Permanent cures for aliments such as toothaches and corns were promoted. You no longer need to have rotten teeth pulled with this magic elixir.
no matter how long or violent the pain may have been, or how many teeth decayed, the Elixir will be found to stop decay, and be a permanent cure in every case of real toothache.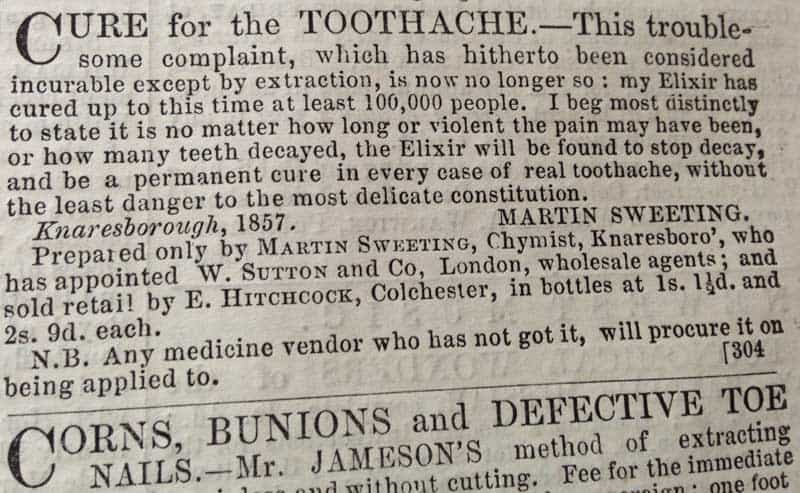 Essex folk could set up a new life in Australia
If the worry of crime or toothache was too much to bear, you could seek voyage to Melbourne, Australia. Former Royal Mail ships travelled from Liverpool to offer the chance at a new life.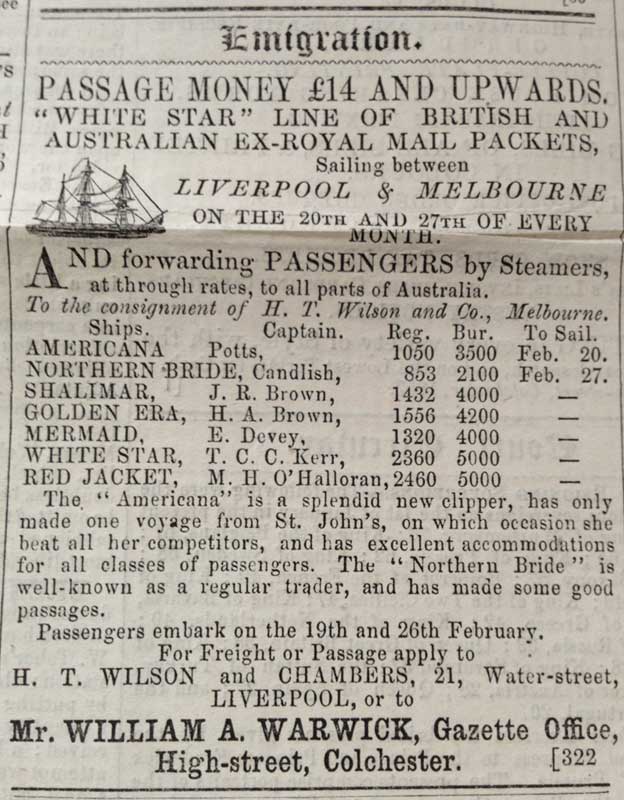 Although this is far from a true historical or sociological understanding of Essex in the 1850s, I found the contents of The Essex & West Suffolk Gazette very interesting. I hope you also found this article of interest.