From wireframes to fully fledged live site, Yours Friendship & Romance was developed using the Lean UX workflow. After several superficial site redesigns, I looked at addressing the core needs of Bauer's Non Traditional Revenue sites (Dating, Deals, Bingo). Each microsite had to be easy to update, test, adjust and improve – so informed decisions could be made to improve its performance.
Quantitative data (mostly from Google Analytics), is taken from each part of the site, so learnings can then be applied to other relevant NTR sites. WordPress multsite made it easy to set up parent themes for each brand and sector (Yours/Dating), with a child theme to house aesthetic variations.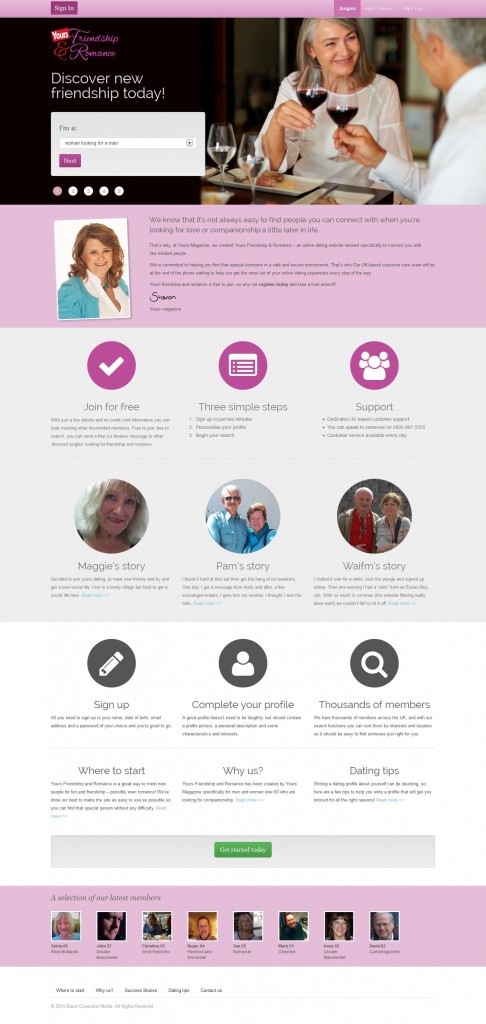 The site was the first venture into Bootstrap 3, having used Bootstrap 2 for the earlier MOJO site.
Gallery
Developed using WORDPRESS, PHP, JQUERY, HTML5, BOOTSTRAP & CSS.
Site: http://www.yoursfriendshipandromance.co.uk/yoursdating/
http://www.yoursfriendshipandromance.co.uk/afterdivorce/
http://www.yoursfriendshipandromance.co.uk/afterloss/less