The Hive Enterprise Centre based in Southend on Sea, now have a new section on their website dedicated to the hire of event space and meeting rooms. Since setting up in Victoria Avenue almost a year ago (June 2015) as a dedicated business hub, The Hive is widening its focus to providing easy access meeting and conference space to local businesses and events.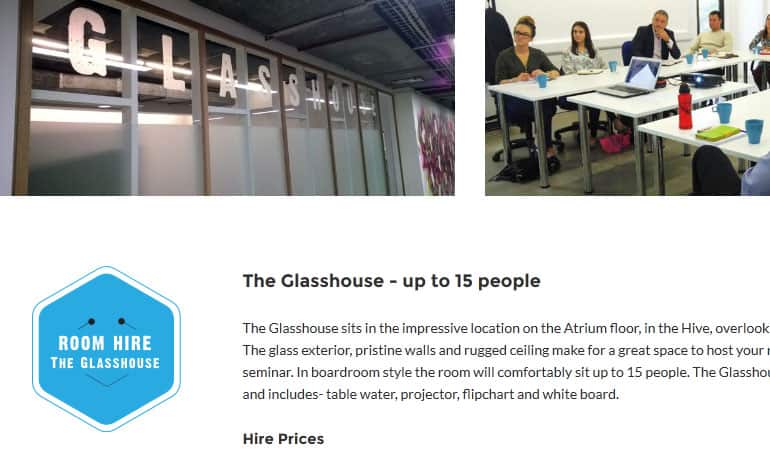 WordPress developer / development
We were asked to introduce a new section to showcase the new room hire packages; their hire costs, suggested table layouts and catering options. Each distinctive area was given its own brand, using the hexagonal badge design that was so successful for the event space branding. All room hire packages have the same vibrant blue badge design, with the area name listed below the larger 'Room Hire' text. This made the room hire packages uniform whilst, preserving the existing area names.
The different areas were originally going to have their own individual pages, but having them together made for easier comparison and cross reference. Although this lead to a longer page with larger page weight, the individual options are probably too small to warrant their own pages (as the office space options do on the site).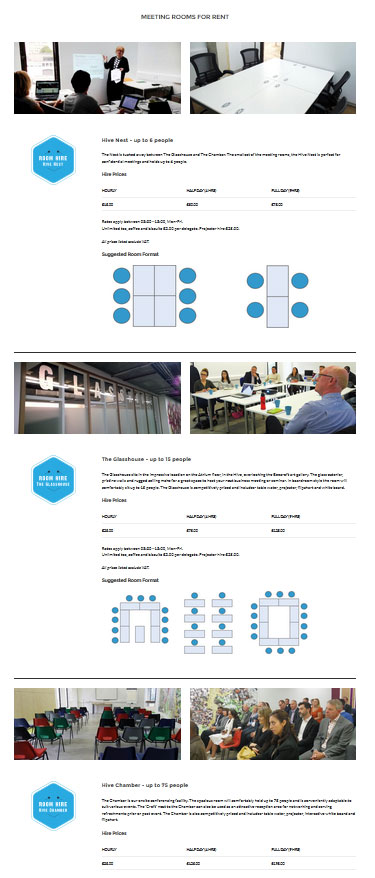 Much of the content was taken from the first draft of the accompanying brochure. Design elements such as the hexagonal badges and room layout vectors, were simplified and made more consistent. Elements such as VAT and projector hire were also removed from the main price table and placed underneath, to aid readability.
Essex WordPress developer
Working with a local client makes communication much easier, with work such as the above taking only a few days to turn around following the first client email. Measured Designs are able to accommodate both WordPress design and development requests, helping to build and maintain the websites of many local businesses.
We have long standing relationships with our clients, helping them to grow as we hope to develop too.